Tight-fitting, well-worn jeans and a Stetson tipped low. Cowboy boots, dusty from riding the range and a day's stubble shadowing a strong chin.
The question begs to be asked. Is there anything sexier than a cowboy? They love their mamas, say yes, ma'am, and make our hearts pound and our palms sweat. And I get to spend every single day surrounded by them, watching these big, strong cowboys fall in love!
I hope you'll join in the fun as three special couples fall in love in the Maverick Junction series. Meet Cash and Annelise in Somebody Like You, the first in the series out December 4, 2012, from Grand Central Publishing, followed by Ty and Sophie's story in Nearest Thing to Heaven, and Brawley and Maggie's in Can't Stop Lovin' You.
I hope you'll fall in love right along with them!
And remember, I'm still writing other great stories about life and love as Lynnette Hallberg. You can visit me at www.lynnettehallberg.com Happy reading!
Lynnette
---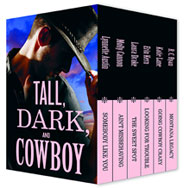 Tall, Dark, and Cowboy, a special six-box boxed set, releases June 3, 2014, and includes my Somebody Like You along with full-length books by Katie Lane, Ruth Ryan Langan, Molly Cannon, Laura Drake, and Erin Kern.
Purchase online from Barnes and Noble
---
"Here are a few of the places I've visited lately. Come visit! See what the Maverick Junction gang and I are up to these days."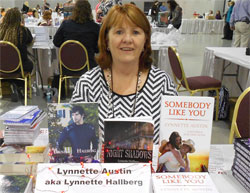 Signing books at the 2013 Romantic Times Convention
Kansas City, Missouri