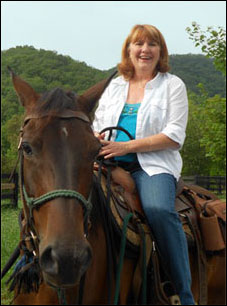 Once upon a time, a handsome prince walked up to the Tastee Freeze window and asked the lovely princess—who was working there to earn money to redecorate the castle—for a chocolate milkshake and a date. She said yes to both, and they lived happily ever after.
Okay, maybe I embellished a little—the princess didn't actually live in a castle—but it's no wonder I write romances with their happy endings. My prince and I are still together.
We had one beautiful son whom we lost in 2006. Aaron brought untold love and happiness into our lives. He was one of those brave firefighters who run into the flames as others are fleeing.
Dave and I both grew up in Pennsylvania's Alleghany Mountains. From there, we moved to New York, then to the Rockies in Wyoming. Presently we divide our time between Naples, Florida's beaches and Georgia's Blue Ridge Mountains.
I have a Master's in Educational Leadership and taught middle school language arts before leaving it to write full-time. My books have finaled in Romance Writers of America's national Golden Heart Contest, PASIC's Book of Your Heart Contest, and Georgia Romance Writers' Maggie Contest. My books written as Lynnette Hallberg include Enchanted Evening from Kensington, Moonlight, Motorcycles, and Bad Boys,Chantilly Lace and A Pretty Face, and Night Shadows from The Wild Rose Press, and Just A Little White Lie from Carina Press.
I love books and have closets full of them as well as two well-supplied ereaders. Nothing makes me happier than losing myself in my characters' worlds. Besides reading and writing, I enjoy traveling. I've visited all fifty states with the exception of Alaska and have traveled extensively throughout Canada, Mexico, Europe, Africa, and Central America—always on the lookout for new characters or a new story.
So glad you stopped by,
Lynnette Austin
P.S. The beautiful horse I'm sitting on is Beau, courtesy of the Chunky Gal Stables, located in the scenic Chunky Gal Mountains of Hayesville, NC.
Visit Lynnette on Facebook and Twitter.